Upcoming Events
Championship Show
2016
The Canterbury Juniors are holding their annual 2 Championship Shows on the 3 & 4 December 2016.
We have some very exciting judges on our panel and we hope everyone supports them well – please see our judges page for resumes.
We have Pieter Tjerkstra who has German Shepherd Dogs and Staffordshire Bull Terriers – The South Island German Shepherd League are supporting this show by supplying medals and certificates for competitors the challenge certificates will be awarded through Canterbury Juniors. Entries go to Canterbury Juniors as per normal. We will be judging the GSD in a double ring over by playground and then you will move back to the working ring for group judging.
Along with Pieter we have Griet Coetzer who is a Staffordshire Bull Terrier specialist and is judging terriers for us. This is a great opportunity for the Staffordshire exhibitors to have the opportunity to show under two experienced Staffordshire judges. We hope you all support them as it would be good to get a great entry for them.
We also have our two judges from Sth Africa who are very excited to be coming as they have not been here before. Joy McFarlane and Elrena Stadler are both hound specialists and are also all breeds judges with an interest in many other breeds.
To support Juniors and help to increase hound numbers the South Island Hound Club are holding a Open show that weekend also with a 3rd Hound specialist….what a weekend for you all. We look forwarding to watching the judging.
The Canterbury Bull Terrier Club are also having a champshow and using our Judge Griet's husband Frans well he is here in New Zealand – so there will lots to watch.
Don't forget to watch out for Santa.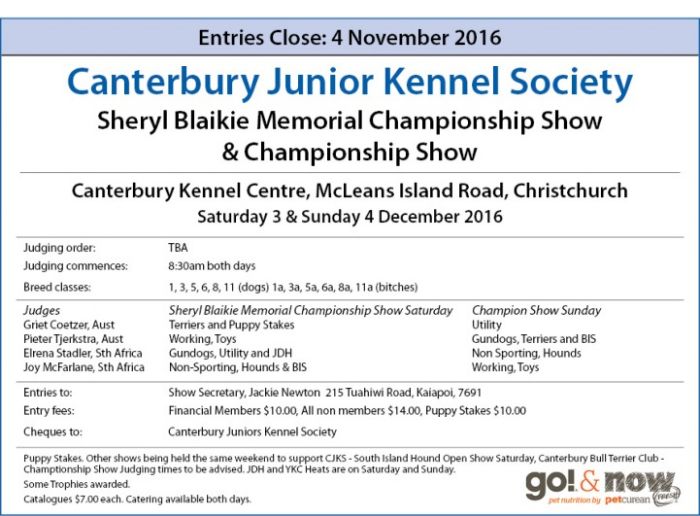 Contact Details
Nicole Adams
Christchurch, NZ
Phone : 021 1169303
Email :
[email protected]